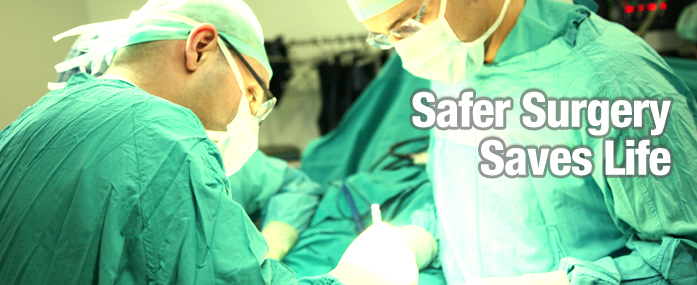 Safer Surgery, Saves Lives
Background
Recent studies on Patient Safety have concluded that medical errors were much more likely to have serious results during surgery than during other situations. In other words, the administration of a wrong drug to a patient during surgery is more likely to lead to serious or fatal results compared to administering the wrong drug to a patient at rest. This fact has lead the WHO to take on a separate approach to Patient Safety through promoting the safest surgery possible.
Content
The WHO as part of "Safe Surgery Saves Lives" came up with a checklist in 2007 for surgeons to perform before, during and after surgery. This checklist is the result of careful research and monitoring of the causes of medical errors in the eld of surgery. Errors include allergic reactions by the patient, leftover of medical instruments inside the patient body after surgery, and not administering antibiotics during surgery.

The WHO has concluded that half a million lives per year could be saved with the adoption of this checklist worldwide. A study conducted in the Netherlands between 2007 and 2009 shows that the use of the WHO checklist for surgeries reduced the number of surgery related complications by 1/3 and deaths by 1/2. This encouraging data explains why the checklist is used worldwide by 3,900 hospitals and is under consideration in 25 countries for full country-wide adoption. The WHO hopes to have its Safe Surgery Saves Lives program and related materials in use around the world.